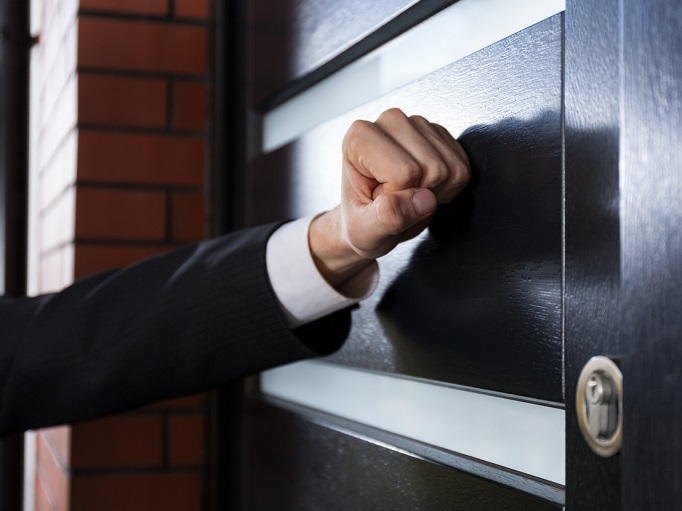 Vast majority of over 50s find doorstep selling of pre-paid funeral plans 'unacceptable' and 'intimidating'
A poll from national funeral plan provider, Ecclesiastical Planning Services, has found that the practice of selling funeral plans door-to-door is viewed as unacceptable by three quarters of over 50s. A further 14 per cent said they thought it was intimidating.
The survey, conducted by national research agency One Poll on, behalf of funeral planning firm, Ecclesiastical Planning Services, asked 1,000 people aged 50 or above how they felt about the practice of selling pre-paid funeral plans at the doorstep. While only 6% of those asked said they had been targeted by doorstep sales people, the vast majority (75%) were aware of this as a sales tactic and branded it 'unacceptable'.
Of the respondents, just 6% said that they did not mind being approached by door-to-door funeral plan salespeople, with only 1% describing it as 'useful'. More alarmingly, 14% of responses indicated that they found it to be an intimidating process.
Usually, funeral plans sold at the door are through third party sales agents operating on behalf of national funeral planning firms. In July 2017, a report from Fairer Finance highlighted the growing issue of third party firms promising customers the services of a funeral directing firm without having a prior agreement in place with the funeral director. This has led to severe emotional dissatisfaction for some families who have been unable to use the funeral directing firms intended by their loved ones.
While just 6% of people claimed to have been contacted by door-to-door funeral plan salespeople, email and telephone marketing of the product was found to be much more prevalent. In total, 36% of people said that they had received emails from funeral planning firms offering pre-paid plans. A further 18% had been contacted by telephone.
Michael Peace from A.H Cheater Limited a local funeral director based in both Romsey and North Baddesley said: "It's not surprising to hear that so many people aged 50 and above are against door-to-door sales of pre-paid funeral plans. It's a practice that has crept into the market and I think we are seeing a backlash against it because, as some respondents pointed out, it can be intimidating…"
A.H. Cheater Limited works with Ecclesiastical Planning Services to offer funeral plans.
About Ecclesiastical Planning Services
Ecclesiastical Planning Services Limited, part of the Ecclesiastical Insurance Group, is a specialist, UK-based financial services group which has been protecting people, property and funds since it was founded in 1887. It offers funeral plans via a network of funeral directors around the country. Ecclesiastical Planning Services Limited is the funeral plan provider behind Perfect Choice Funeral Plans, one of the UK's leading pre-paid funeral plan products. www.funeralplans.co.uk
Source: OnePoll Research of 1,000 men and women aged 50 and above on behalf of Ecclesiastical Planning Services, November 2017.